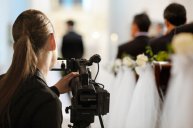 Tracking the course of Great Events
Eline Design Studio undertakes all works connected with 2 D video photography and Editing which is carried out with the help of latest equipments, State –of- the- Art lab and wizardly video photographers and editors.
Video editing and the lab facilities are the best and compatible with any studio in India. Our finishing touch, editing and lab processing help to create memorable and brilliant visual records of great events and celebrations in life. Besides the production of Video of life events our studio produces excellent video ad films and product videos for corporate and brand promotions.