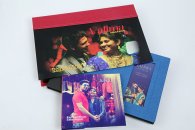 Set Your Events In a Magazine
Showcase your wedding details--and your photography--in our hot-off-the-press 8-page special issue that's all about them. The magazine is the first template of its kind for photographers and is the ultimate wedding upsell: add it to your top-level package, use it as an incentive for clients to book, offer it as a distinctive à la carte add-on, and present it as a piece of viral marketing showing off your work.
Designed to spotlight their wedding festivities and love story, this template for the bride and groom is ideal for save-the-dates, official invitations, wedding goodie bags, or ceremony programs. The client magazine can also be viewed online as a modern digital presentation or emailed to guests as a digital download. Preparing the template is a snap with our professionally designed client questionnaire, written specifically to correspond with the magazine's layout.